MAFA conducts appeals as needed to raise funds for the monasteries and the Holy Community of Mount Athos. These are in some cases emergency appeals when funds are needed on short notice, and in other cases project appeals — fund-raising efforts to support projects — for example, restoration projects like the recent appeal on behalf of the Axion Estin Cell.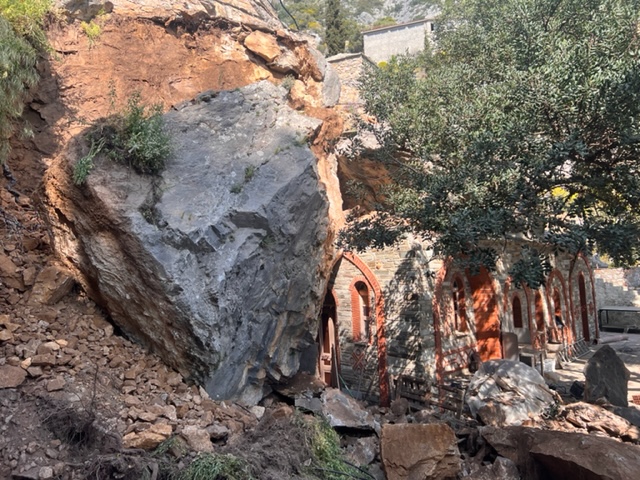 Mount Athos Foundation launches Appeal for the Kalyva of the Dormition Following Rock Slide
On May 20, 2022 the Mount Athos Foundation of America initiated an urgent appeal for donations for the Kalyva (a small monastic cell) of the Dormition, a dependency of the Skete of Little St. Anne on Mount Athos.
Emergency Appeal following fire at Grigoriou Monastery
The Mount Athos Foundation of America (MAFA) is issuing an emergency appeal on behalf of Grigoriou Monastery following a fire at the Monastery on July 9, 2019. MAFA was founded by members of the Friends of Mount Athos in the Americas in 2017 to provide support to the Holy Mountain when needed.
Appeal for Aid for the Sisters of St. John the Forerunner Convent on Mt. Kissavos
Our greatest longing from a materialistic standpoint has been keeping the old monastery from ruin and restoring its church together with its precious frescoes from the 16th century.